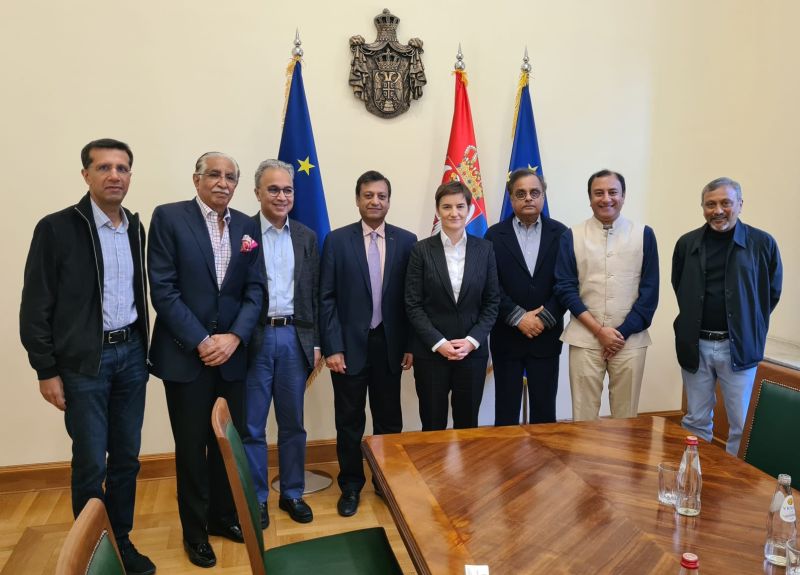 Belgrade, 2 October 2022
Prime Minister Ana Brnabic met today with member of the Board of Directors of the Bill Gates Foundation and founder of Ashoka University Ashish Devan, as well as with a group of businessmen from the fields of agriculture, tourism, film industry, information technology and artificial intelligence from India.
Brnabic pointed out that Serbia is proud of the excellent relations it has with India, and that during her recent stay in Japan she had the opportunity to speak briefly with Prime Minister of India Narendra Modi.
The Prime Minister stated that Serbia is interested in further deepening the cooperation with India, and the best way to do this is to strengthen the economic cooperation between the two countries.
Devan assessed that Serbia has exceptional tourism potential and that, in addition to tourism, India also sees potential in the Serbian market of information technology, agricultural products, and innovative entrepreneurship.
He stated that Serbia has become an attractive destination in the film industry as well, and Indian film productions should consider our country as one of the destinations for filming their content.
Speaking about advanced technologies, Brnabic stated that today there are four science and technology parks in Serbia - Belgrade, Novi Sad, Nis and Cacak, the Institute for Artificial Intelligence with a center in Novi Sad, and that the Center for Genome Sequencing and Bioinformatics was recently opened.
She also informed the guests from India about the BIO4 campus project, a unique national center, which will integrate several higher education and scientific research institutions with complementary contents in one unit.
The Prime Minister also said that Serbia has been making constant progress in the field of IT services for years, and that for the first seven months of this year, the export of ICT services amounted to €1.4 billion, which is slightly less than in the whole of 2020.
According to her, our goal is to exceed the export value of €2.5 billion this year, which would further strengthen Serbia's leadership position in the region.