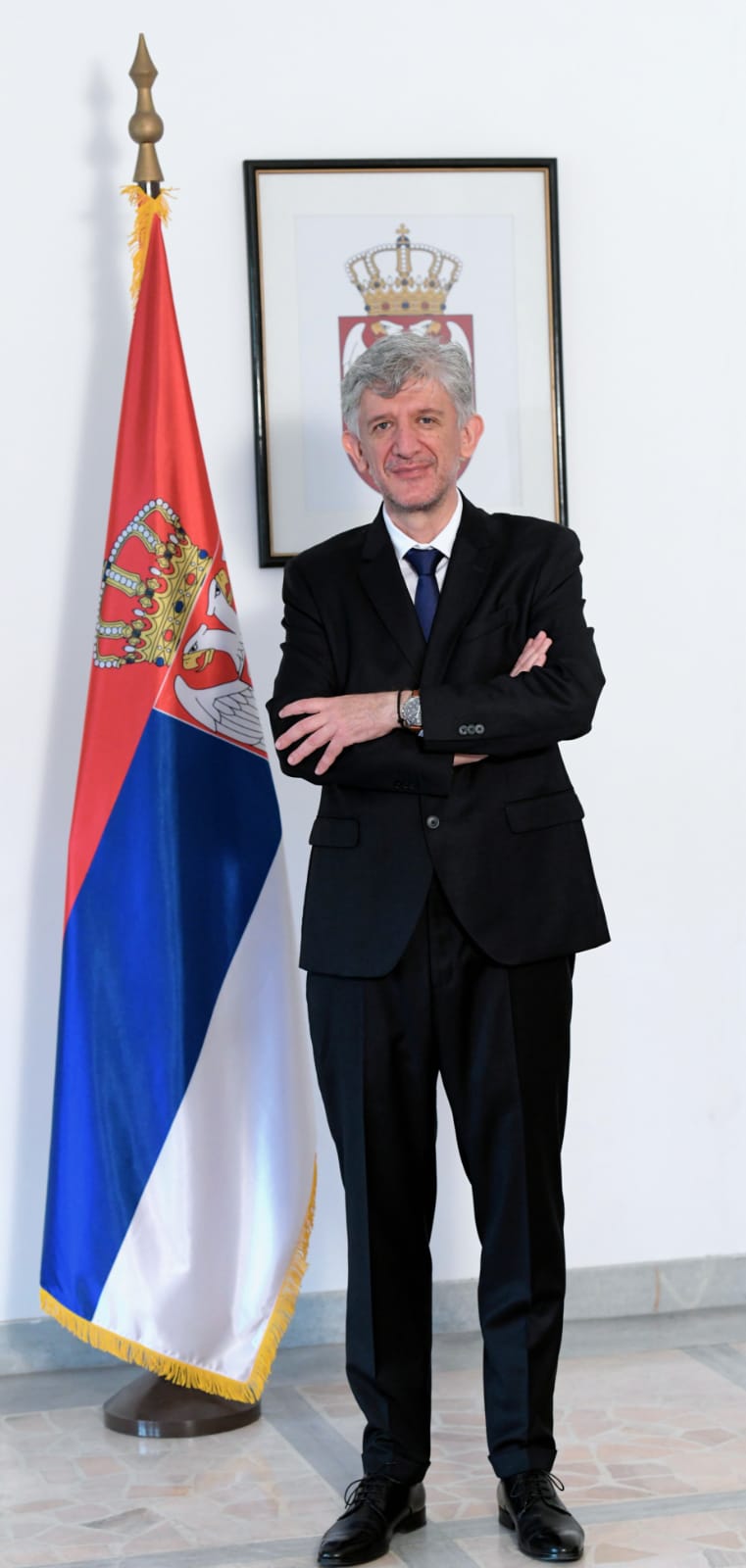 Born on January 13, 1970 in Smederevo.He finished primary and secondary education in Smederevo. Military service served 1988-1989. He obtained the title of law graduate after graduating from the Faculty of Law, University of Belgrade in 1993.
Fluent in French and English also speaks Greek and German.
Father of two daughters Katarina and Tamara.
The President of India, Shri Ram Nath Kovind accepted credentials from Ambassador Pavic on February 16, 2022.
EXPERIENCE
- July 2020 - February 2022.: Chargé d'Affaires of the Embassy of the Republic of Serbia in Delhi (India), which also covers Bangladesh, Nepal, Bhutan, Sri Lanka and the Maldives;
- July 2020: Ambassador to the Ministry of Foreign Affairs;
- January 2019 - July 2020:Assistant Secretary General of the Ministry of External Affairs;
- April 2013 - December 2018: Consul General of the Republic of Serbia in Thessaloniki (Greece);
- September 2009 - November 2012: Department for Personnel and Legal Affairs of Ministry of External Affairs; (from the first counsellor rto the chief of the minister counsellor);
- May 2005 - September 2009: Consul at the RS Embassy in Paris (First Secretary and Counselor, since 2007 Head of the Consular Department);
- February 2003 - May 2005: Head of the Real Estate Department in the Department for Property and Legal Affairs of the Ministry of External Affairs; (with the title of First Secretary);
- August 1998 - January 2003: Attaché at the Federal Republic of Yugoslavia Embassy in Tunisia;
- July 1996: trainee in Ministry of External Affairs;
- April 1994 - July 1996: Trainee - District Court in Belgrade;
1996: Passed the bar exam;