Delegation of the Chamber of Commerce and Industry of Serbia, led by Mr. Željko Sertić, President of the Chamber of Commerce and Industry, visited India (Delhi, Ahmedabad, Bangalore, Mumbai) from 24 to 30 January 2014.
In Delhi, Delegation was received on behalf of the Ministry of External Affair of India by Mr. Rahul Chhabra, Joint Secretary in the Central Europe Division, and meetings were also held with representatives of FICCI (Federation of Indian Chambers of Commerce and Industry) and CII (Confederation of Indian Industry). FICCI Delegation was led by Ms. Ambika Sharma, Deputy Secretary General & Head-International, and CII Delegation was led by Mr. Deep Kapuria, Chairman of the CII Regional Committee on Central Europe. In Bangalore, Serbian Delegation participated on 28 and 29 January in "Partnership Summit 2014," organized by CII. On that occassion, a Memorandum of Understanding was signed between CCIS and CII. CCIS Delegation's visit to India was marked by meetings with high officials of the governments of Gujarat (Minister Saurabh Patel) and Karnataka (Kaushik Mukerjee, Chief Secretary of the Government). CCIS Delegation also visited well-known Indian companies: Sona Koyo Steering System in Gurgaon, Tata Nano Plant in Ahmedabad, Infosys in Bangalore, Mahindra & Mahindra, Shapoorji Pallonji, as well as Maharashtra Industrial Development Corporation in Mumbai.
Main aims of the visit were promotion of Serbia as an investment destination and encouragement of further development of bilateral economic cooperation between the two countries. Serbian Delegation conveyed its intention to strengthen economic cooperation with India, paricularly through attracting investments from India and increasing bilateral trade volume. Serbian side presented Serbia's economic potential, numerous projects open for foreign investments, as well as the advantages offered through free trade agreements signed with Russia and other countries which provide foreign investors with access to other markets through Serbia. Main investment capacities of Serbia were presented in the fields of energy, agriculture, food processing, engineering, tractors manufacturing, car production, irrigation machinery, IT industry, high education, pharmaceutical industry, health tourism, hospitals, spas, film industry, green energy and biotechnology. Indian companies have been invited to invest in Serbia, as well as to consider possibilities of strategic partnership in privatisation and restructuring of various Serbian companies. Indian side has showed interest in investing in Serbia, development of long term cooperation between chambers of commerce and industry of the two countries, improvement of contacts between business communities (B2B) and putting additional efforts in further development of the economic cooperation of India and Serbia. Serbian Delegation has been invited to participate in the first India-Central Europe Business Forum organized by FICCI and Ministry of External Affairs of India, to be held in New Delhi on 27-28 March 2014.
Ambassador Jovan Mirilović participated in all talks and activities during the visit of the Delegation of the Chamber of Commerce and Industry of Serbia to India, and Honorary Consul of the Republic of Serbia in Mumbai Mr. Taizun Patheria joined the meetings held in Mumbai.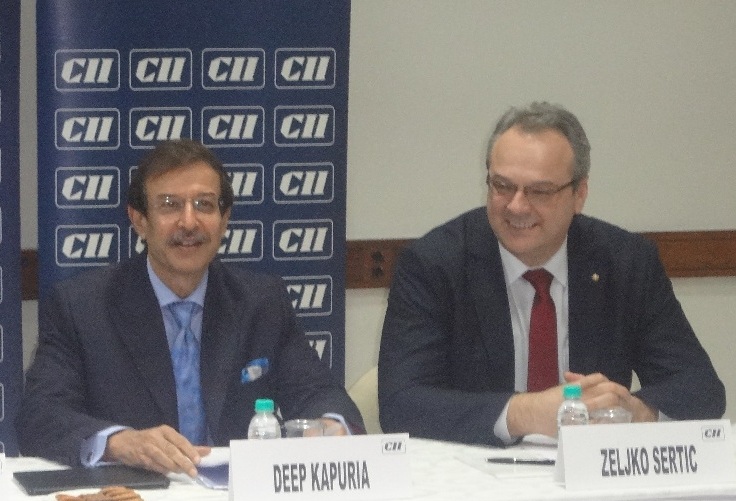 Mr.Deep Kapuria, Chairman of CII Regional Committee on Central Europe, Mr.Zeljko Sertic, President of CCIS