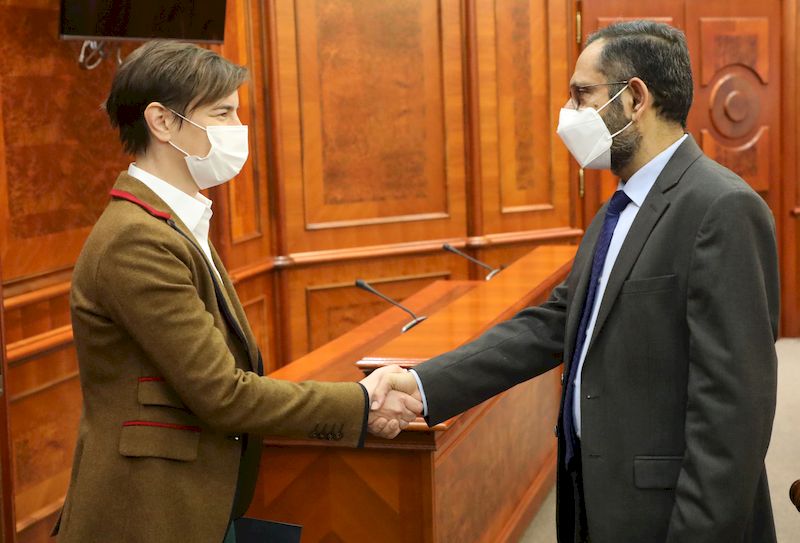 Prime Minister Ana Brnabic talked today with Ambassador of the Republic of India Subrata Bhattacharjee about bilateral relations between the two countries, the current epidemiological situation and the possibilities of importing vaccines produced and developed in this country.
Brnabic pointed out that India is a great friend and an important partner with a decades-long tradition of good mutual relations and cooperation.
The Prime Minister congratulated India on the successes in the development of vaccines so far and expressed confidence that those developed in this country will make a great contribution to overcoming the crisis caused by the pandemic and achieving the collective immunity of citizens.
The Ambassador pointed out that about 60% of vaccines intended for the world market will be produced in India, and that the export of the vaccine against the COVID-19 virus is planned soon.
Friendly countries, including Serbia, will also, if there is interest, be able to get this type of vaccine, Bhattacharjee specified.
The Prime Minister stated that Serbia wants to import as many vaccines from various manufacturers as possible, in order to provide its citizens with the best possible protection, and that there is interest in cooperation in this area with India.
The officials also discussed the continuation of the work of the Joint Committee for Economic Cooperation, as well as the economic cooperation of our countries.
Serbia is committed to stronger cooperation, primarily in the field of agriculture, since this branch of the economy plays an important role in our country.
Belgrade, 13 January 2021